Ben Glover, MA, LPC
Owner
Email
Counseling & Treatment Philosophy
Since no two people or paths are alike, counseling must be adaptive and helpful as both science and art. I utilize several psychological theories in working with people on their journey: Cognitive-Behavioral, Solution-Focused, Family Systems Theory, and Client-Centered. These "schools of thought" focus on reducing symptoms of mental distress and are scientifically-based approaches that have been trial tested with positive results. The art of therapy is knowing when and where to make applications and interventions as therapist and client build a sacred space of trust and healing. I am a Licensed Professional Counselor (Oklahoma LPC #5798) who graduated from Southern Nazarene University in 2013 with a Masters in Marriage & Family Therapy. I also have a Masters in Ministry from Oklahoma Christian University.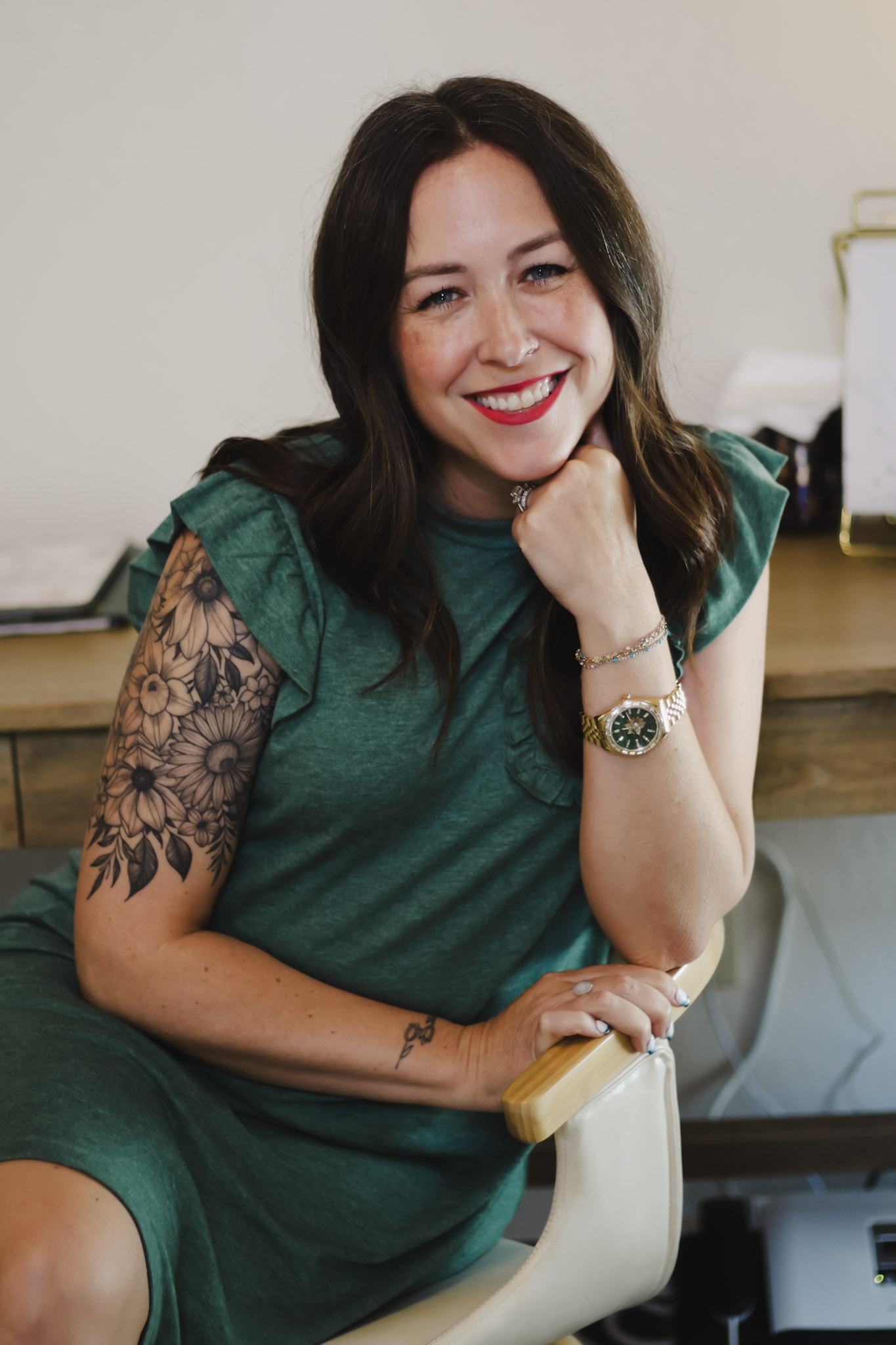 Tara Hall, MA, LPC
Owner
Email
Set Appointment Now
Accepting some insurance
My approach to therapy identifies that much of our anxiety stems from an inner struggle to integrate our past and present experiences, with our current values and desires. Often, the way we previously understood things and related to others no longer works or functions to enhance our relationships. Embarking on a shared journey creates space for authenticity and self-awareness, allowing for more meaningful and intimate connections. I feel qualified to partner in this process with adults, couples, and adolescents who may be struggling with depression/anxiety, relational conflict, trauma, and other life transition concerns.
Earl Cowdrey, LPC
Accepting some insurance
I am grounded in a cognitive-behavioral theoretical understanding and seek to engage clients in affirming and non-judgmental ways. I understand the inter-relatedness of persons' thoughts, feelings, and behaviors, and I venture to ameliorate distress through talk therapy and facilitating greater self-awareness and understanding. I am comfortable working with families and individuals of all ages. I am happy to assist in eliminating distress related to, but not limited to, the following: depression, anxiety, perfectionism, relationship problems, loneliness, attention difficulties, guilt, and procrastination.
Paul James, LPC
Set Appointment Now
It is easy to understand in today's world how people can get caught up in life's challenges and end up feeling alone and disconnected from others. Those rough patches can even leave a person feeling hopeless, like things will never get better. Fortunately, I believe that counseling can make all the difference!
Since entering the field of mental health in 2011, I have obtained a graduate degree in Counseling Psychology from Southern Nazarene University, and I have served clients in community clinics, crisis shelters and inpatient treatment facilities across Oklahoma. As a Licensed Professional Counselor (Lic. # 5960), I use my experience and training to provide evidence-based interventions that are tailored to your needs through individual, couples, and family therapy. I practice from an attachment-oriented Cognitive Behavioral perspective, which allows me to address specific behavioral issues as well as the ways that emotions, thoughts, experiences and past trauma impact an individual's ability to relate to others in a healthy manner. I also carry a deep respect for the courage and vulnerability it takes for my clients to come forward and seek help. Contact me today to see how we can partner together to reclaim hope in your life!
Mimi Rose, LMFT
Email
Call
My passion is to tap into and foster the very hope and courage that brings people into therapy. From a family systems perspective, I work within the context of relationships and believe a safe and trusting therapeutic relationship is crucial to helping others find solutions and achieve their goals. My practice includes working with adolescents (14+), individuals, couples and families dealing with depression, anxiety, trauma, PTSD, attachment injuries, adult survivors of childhood sexual abuse and a wide variety of individual and relationship issues. I offer services at affordable rates and accept cash, check, debit and most major credit cards. In addition to regular work hours, I have extended evening and weekend hours.
I earned my M.A. degree in Marriage and Family Therapy from the University of Louisiana at Monroe. Following graduation, I worked 24 years in the Psychiatric and Senior Living industries.
Emily Swenson, LPC Candidate
My philosophy is to build a relationship with my clients by joining them at whichever point in life they may be. I believe understanding my clients' individual stories through empathic connection is crucial when helping them reach their goals in therapy. It is very important to me to create a safe space where clients feel comfortable enough to express themselves freely, explore all facets of themselves, and expand on self-awareness. I enjoy assisting others in becoming more comfortable in their own skin and embracing their individuality. I graduated from Southern Nazarene University in December 2017 with my Masters of Arts degree in Counseling Psychology, and the majority of my practice includes individual clients (ages 16 and up) and couples. Therapy is a collaborative experience, and I look forward to collaborating with you as you aim to grow towards your desired goals.
Jordan Orosco, LPC Candidate
I strongly believe there is immense value in simply having someone who understands your story, empathizes with you and believes in your capability. I strive to be that person to all of the clients I work with by meeting them on a very individualistic level. The vast majority of my experience has been working with children who have experienced trauma, as well as school aged children who have internalizing and externalizing behavioral issues. I am extremely passionate about working with children and their families to help them better understand each other. I am based in Family Systems, Cognitive-Behavioral and Attachment theoretical perspectives in my therapeutic approach. I am currently being trained in parent child interaction therapy, which is an effective evidence based program for children who are experiencing behavioral issues and their families. I am a student at Southern Nazarene University and I will be graduating with my masters in December 2017.
Emma Greenback, LPC Candidate
Emma Greenback, M.A., LPC Candidate is a Licensed Professional Counselor in her third year of Candidacy. She graduated with her Bachelors and Masters in Clinical Psychology from Southern Nazarene University. She has been involved with Oklahoma Eating Disorders Association (OEDA) since 2008 and became the Executive Director for OEDA in 2016-2018. Emma has worked with children, adolescents, adults, couples and families in a therapeutic setting. She is passionate about working with those who struggle with eating disorders, body image, self-esteem, identity, trauma, anxiety, depression and LGBTQ support. Her style of therapy integrates a relational approach with the client as well as focusing on the core issues blocking the person from experiencing their highest sense of self and quality of life.
Jamie Lovuola, LPC Candidate
I believe therapy is a relational endeavor that at its foundation requires the creation of a secure space, where you feel safe to be yourself. With this baseline established, I find therapy works best as a collaborative effort where we work together to explore and gain insight into who you are and how you interact with the world. The therapeutic process will entail gaining awareness into your patterns of relating to others and how those patterns impact your identity and interaction with broader society. During this process of exploration, we will work together to identify contextual influences (e.g., social and familial), emotions, thoughts, and behaviors that have combined to influence the perceptions you have of yourself and your being in the world. While I believe it is important to embark on this journey of understanding, we will also work together to find healthy solutions to those problems you identify as the most intrusive. I firmly believe that healing and transformation ultimately comes from the process of therapy itself; that is, engaging in meaningful self-exploration allows you the freedom to begin to see and create new possibilities for yourself and to live a more congruent and fulfilling life.
I graduated from Southern Nazarene University in December of 2018 with a Masters of Arts degree in Counseling Psychology. Prior to completing my master's degree, I gained experience doing Applied Behavior Analysis with children who were diagnosed on the Autism spectrum. I am passionate about working with mothers who may be struggling with post-natal mood disorders, such as anxiety and depression. I am also passionate about working with individuals/families who have a member of their family who has a special need and the different challenges and emotions that may arise as a result. Additionally, I look forward to helping individuals (adults and children) as well as couples, who may be struggling with depression, anxiety, trauma, PTSD, divorce, grief, as well as other individual and relational issues. I accept cash or check and offer reasonable rates.